Laser treatment (IPL+RF)
Laser Treatment (free consultation)
Laser -Elight ( Intense Pulsed Light + RF) or Intense Pulsed Light (IPL)
the latest laser machine – pain free
Application
Hair Removal: armpit hair, hairline, beard, whiskers, lip hair, body hair, bikini hair or any other unwanted hair.2.Vascular lesions, red face, and red capillary
Vascular lesions, red face, red capillary and spider veins.
Acnes: allergic acne,  blackhead, bottle nose and improving the situation of oily skin
Skin Rejuvenation: Face lifting up, smoothing wrinkles and pouches, shrink pores, improve skin flexibility, skin texture and skin tightening.
Pigment: Freckle,  age pigment, sunburn, all kinds of pigmentations.
Non surgical treatment
Permanent Hair Reduction
By using the E-Light IPL system the unwanted hair can be removed from all parts of the body. E-Light combines the already proven Intense Pulse Light with Radio Frequency making it so effective that it can treat dark skin and light hair. The most common areas for laser hair removal treatments in women are the face, neck, bikini line, underarms, nipples, tummy line, arms and legs. We also specialise in hair removal treatments for men, who most commonly want treatment of their face, neck, ears, back and chest. Course of 6 treatments.
Bikini line €420

Extended bikini €520

Lip €200

Chin €220

Under arm €480

Half leg €580

Half leg +bikini €820

Half leg +bikini +under arm €920

3/4 leg €820

Other areas available please call 021-4360360 for a quote
 Free consultation & Patch Test
Before & After Treatment Tips
Do not bleach or use depilatory creams for at least 2-3 weeks prior to your 1st treatment and stop using for the duration of the laser course.
No waxing, plucking or threading at least 1 month prior to your treatment and stop for the duration of your laser course.
No alcohol or spicy food  within 24hours  before or after treatment
Only shave or cut the hair in between treatments.
For best results shave the area at least 2-3 days prior to your treatment.
Body or facial scrubs 1 week prior to or after treatment only.
You must use an SPF 25-30 on the area of treatment during sun exposure and summer months.
Please make sure fake or natural tan is not present on the day of treatment
Apply Aloe Vera gel to the treated area as it may be red or swollen. The redness can last from 2-3 hours up to 2-3 days
For the next 24-48 hours after the treatment the following activities should NOT be carried out: swimming, sauna, jacuzzi, steam rooms, hot showers or baths.
Avoid itching or tight fitted clothing to avoid any further irritation
Tattoo, eyebrow tattoo removal           From  €50
Pigmentation Treatment
E-Light is also a fast, safe and highly effective method of reducing unwanted pigmentation such as age spots, sun-induced freckles.
From 50 euro
Reduce wrinkles, face-lifting &Rejuvenation, Reduce scar
The IPL technology, focusing on the entire derma and tissue precisely,stimulate collagen growth without hurting normal epidermis. Scope of treatment: face-lifting and wrinkles around nose around eyes and between the eye brows ,minimize pores and acne scar, reduce scar.
Forehead €100 course of 6 €480 
Eye €100 course of 6 €480
1 treatment €200 (full face)
Course of 6 €800 (full face)
Course of 10 €1100 full face)
Acne treatment
Short-wave length light kill acne bacteria,red light and high radio frequency the activity of sebaceous glands.
From €50
1 treatment €180 (full face)
Course of 6 €800 (full face)
Vascular lesions, red face, and red capillary, spider veins.
From €50
Eye Bag Reduction €130 course of 8 €800
What is E-Light (IPL+RF) technology ?
E-Light, combined energy technology, uses Radio Frequency (RF) and Broad Spectrum light (IPL) energies by the impedance differences between normal and abnormal skin tissue produced by selective light absorbing principle, it promote the RF transmission while remaining a low light energy and assures greater safety and increases patient comfort.
The light energy in E-Light technology is mainly used for adjusting the impedance values of the organization and guide the RF (radio frequency) energy in-depth concentration. With the skin cooling technology, the RF energy can get deeply into the dermis. In the low light conditions, E-light technology can strengthen the target Organization absorption of RF energy, thus avoiding the problem of main issue of the energy reflection and refraction.
RF energy absorption is not affected by the impact of melanin. It is proofed can be used in dark skin and light colored sandy hair. The low energy pulsed light can reduce the pain and the risks of surgery.
Theory of IPL
The system emits a broad spectrum of intense pulsed light through a small, smooth hand piece. The light is placed over the skin gently. Cut-off filters in the hand piece change the wavelength range allowing it to be optimized for different applications and skin types. The light penetrates the tissue and is absorbed by either the blood when treating vascular lesions or the melanin when treating pigmented lesions or for hair removal and then damaging them. The body's natural processes then remove the injured tissue giving the skin a more even and youthful appearance. And at the same time, production of the collagen in dermis will be prompted to increase the flexibility of the skin and get rid of fine wrinkles.
Pre-treatment
No use of depilatory creams or waxing in the few days prior to the treatment.
No bleaching of the hairs in the few days prior to the treatment.
No sunbathing for 2 weeks before the treatment.
Shave the area to be treated a few days before the treatment.
Post Treatment Care
Use SPF30+ sun screen daily and avoid any sunbathing for 4 weeks after the treatment.
No massage on the treated area within 4-5 days.
Must not press and scratch the treated area.
Use quality mineral make up and if possible avoid makeup for 1day following reatment. The skin is sensitive during this period.
Take Vitamin C and Vitamin E to help with healing.
No eating hot and spicy food because the skin is sensitive during this      period.
For hair removal, shave the hair between treatments if possible.
Bipolar-Radiofrequency
Radiofrequency (RF) treatments are procedures involving the use of a radiofrequency (RF) energy device to heat up and tighten tissue to boost blood flow and break down cellulite and fat. The radiofrequency energy heats the skin without damaging it, in order to break down fatty cells and stimulate collagen production, which improves skin tone and elasticity. Radiofrequency treatments can be used to treat excess pockets of fat on the belly, hips and thighs, reduce cellulite and tighten saggy skin caused by weight loss or pregnancy. The treatment is very safe and has minimal downtime.
Applications:
Face lift & wrinkle reduction 1 treatment €180 course of 6 €800
Course of 10 €1100 euro               
Reduce cellulite & tighten:  belly, hips, thighs ,jaw and  armpits.( call for details)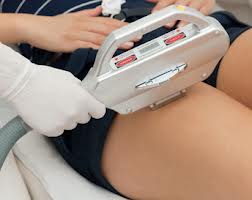 Free consultations
Radio frequency is also called diathermy(deep heating) which is the system to provide the treatment by generating the heat from inside the human body. Wrinkles and loose skin can take its toll on your looks. Even healthy and active people eventually show signs of aging on their faces. Since it's the most important visual feature of your body—the one that most people will recognize you by—it's important to keep your face fresh and youthful. More and more people have tried face lifts over the years to combat wrinkles and skin imperfections. Though often successful, traditional face lifts require minor surgery and prolonged recovery periods. There's increasing demand for non-surgical techniques to refresh facial appearances. That's where radio frequency face lifts come into play.
A radio frequency emitter is pressed up against the skin. These radio waves get past the outer skin layers and deliver heat energy to the muscles and tissues beneath. The heat helps to contract these layers and build up collagen levels. The overall result tightens up the outer layers of skin and reduces wrinkling effects. Since there's a lot of heat involved, some cooling must be applied to the skin at the same time.
The radio frequency face lift was approved by the FDA as a non-surgical treatment for wrinkles and facial skin imperfections. It is a proven medical procedure that requires no scalpels or sutures. It's also a popular choice for busy professionals who care about their looks. The treatment only takes about an hour, and full recovery is expected in a few days. The results take a bit of time to show fully though. Some results are visible immediately, while the full results take a few months to develop as the deep tissue layers heal.
Pure RF energy is used to treat skin laxity by facial tightening, and is best suited to patients with mild to moderate sagging of facial tissues, usually those in their mid thirties to fifties.
It is commonly used to treat the forehead area(lift brows and tightens forehead skin), under the eyes (thickens skin and tightens and lifts the upper cheek skin), cheeks (lifts slightly and diminishes enlarged pores), mid-face, jaw line (diminishes jowling and sagging along the jaw line), and the neck (tightens skin and diminishes wrinkling of the neck).
In combination with other modalities, RF can be used to enhance a variety of treatments including hair removal, photorejuvenation, pigmented and vascular problems, acne treatment.
Am I a Candidate? Radiofrequency treatments are ideal for those who wish to effectively contour the body, reduce fatty deposits and improve the appearance of cellulite.
Types of Radiofrequency Body Treatment ,it use unique hand-held devices to deliver RF energy into the skin and deeper tissues to break down cellulite; releasing and flushing away toxins and fatty deposits; draining excess fluid; and boosting collagen production to improve the skin's appearance. Most devices are suitable for use on the face and body. Treatment usually takes from 30-90 minutes depending on the size of the treatment area.
During Treatment Depending on your pain tolerance, a topical anaesthetic cream may be applied to your skin prior to treatment to help numb the skin. Depending on the device being used, a 'treatment grid' may then be drawn over the treatment area to assist the practitioner in navigating whilst delivering the RF energy to help ensure an even application of the radiofrequency. A lubricating gel will be applied over the treatment area to allow the handpiece to move smoothly over the treatment area, then your practitioner will work across the treatment area delivering targeted RF energy. Once completed, a soothing gel or cold pack may be applied to your skin.
Depending on the device being used, it may be recommended to have a session every 1-2 weeks with an average of 8-10 sessions in a treatment programme. With all devices, ongoing monthly maintenance sessions will be required.
Recovery You may be advised to apply a cooling or soothing lotion to the treatment area after a session. Most people find that they can return to normal activities immediately after treatment.
Risks and Complications The RF energy will heat up your skin and underlying tissue during treatment, although some devices have inbuilt cooling mechanisms to protect your skin from the heat and make the treatment more comfortable. The most common side effects of RF treatment are some swelling, redness or bruising around the treated area, which will typically disappear in a few days.
Benefits With deep, controlled heating of the fatty layers under the skin, RF treatments tighten the tissues and boost blood circulation, resulting in fatty deposits being broken down and drained through the lymphatic system, reducing the appearance of cellulite.